Danm's funeral is this afternoon. She was the grandmother of the family who Shelly and I lived with when we first moved to Haiti, with whom we've stayed very close for these past ten years. I wrote about Danm in my first book, especially in a chapter "Us. Them." in which she's sharing her lively, funny, scary story-telling skills with us and her grandchildren. (She's in the middle of this photo, with her husband, one of her grandchildren, and my daughter and son.) Danm was very sick the past few months and I thought, as I prepared for this trip, that this might be the last time I got to see her. But she died six days ago. So attending her funeral instead.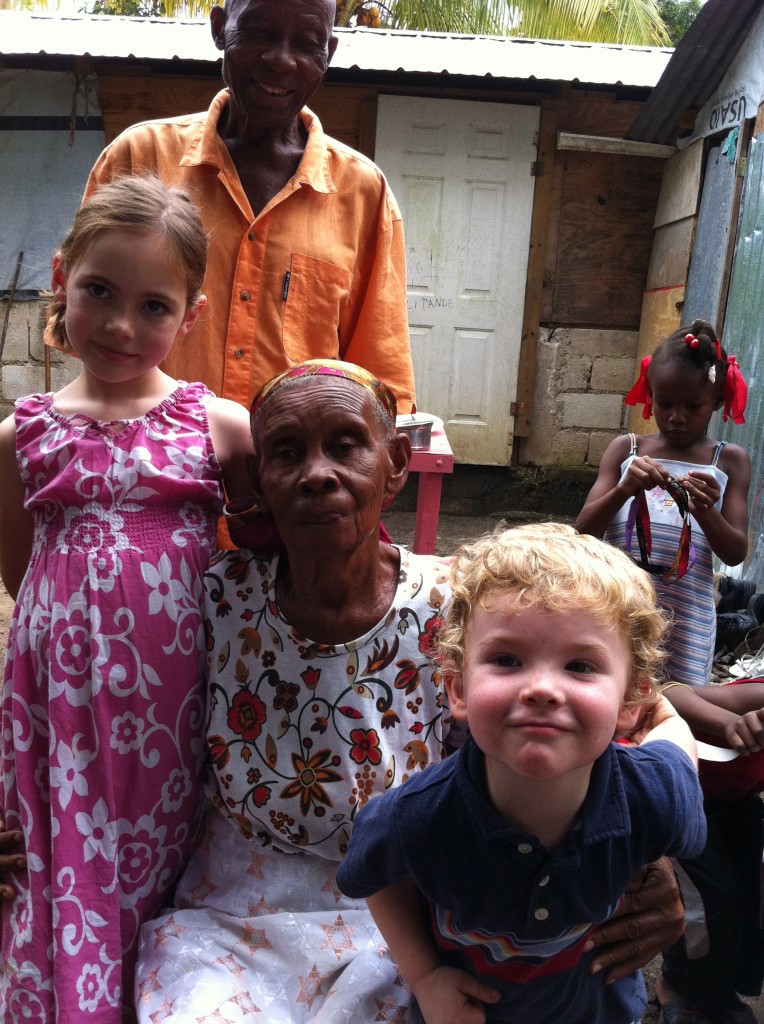 I'll be at the funeral mourning a beautiful woman with her family, friends, and community near Leogane, Haiti. I'll be grateful for her welcoming Shelly and I. I'll be grateful for the way she had both quiet dignity and was quick with a tease. I'll be grateful for when we'd see her and Pere sitting quietly talking in the corner of the lakou (yard) after a long day. I'll be grateful that after her teasing me for about six years, "You're going to wait to bring your children to the village till after I die, aren't you," that she did get to meet my kids, and they got to meet her, six months ago. It was deeply special to Shelly and I, one of those moments when different parts of your life come together and make clear I have far more grace and good in my life than I deserve. I'll be grateful for how Danm would welcome many of our American and Canadian visitors by holding their hands to guide them down the dirt path to welcome them, often with a duffel bag on her head too. I'll be grateful for how I saw her in action in the way that so many women like her daily carry the weight of the world on their heads, raising children, going to markets, getting water down dirt paths, making the best out of hard circumstances. I'll be grateful that she called both Shelly and I, "Pitit mwen," or "My child." I'll be grateful for Danm's husband Pere, for her children, and her grandchildren — a wonderful family — with whom I'll spend the day and night.
My grandmother in Michigan died a couple of months ago when I was in Thailand, so I couldn't make it to the funeral, which is a regret. So while I'm at Danm's funeral, I'll also be grateful for my Grandma's life and her love. Her mind had faded in recent years, but my memories of her haven't. The way life worked, I spent much more time with Danm over the past decade than with Grandma. Grateful for them both.
So now, into a day with sadness, gratitude, prayer, and some bumpy roads.
***
Above: Danm and Pere (her husband) with our children, Simone and Cormac on Thanksgiving Day, 2012. Danm's granddaughter Geldwyn is in the background.
(Written May 30, 2013.)