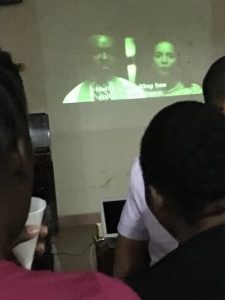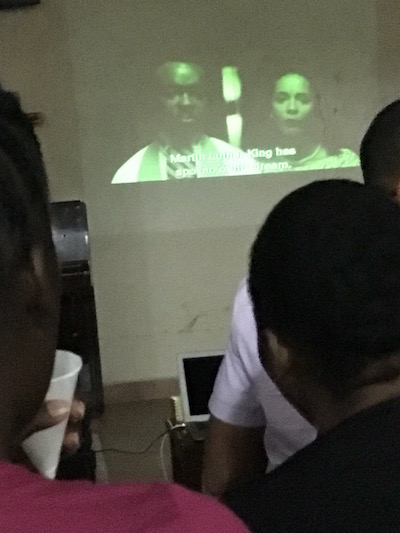 Bap!
Sitting under a mango tree seems like a shade-blessed idea under the hot summer sun…until a mango falls!
Fortunately, Honore took the hit on his leg not his head. A few minutes later he laughed and said now he was going to eat it, as revenge.
Twice a year I love attending a weekend retreat with the 40 or so Micah Scholars that Haiti Partners gives scholarships to and work with as interns.
Last night they shared what kept them pushing forward to work for children's rights, women's rights, and environmental care (three justice issues we focus on). Then we watched the first half of "Selma" together, the movie about Martin Luther King Jr.'s march and movement on Civil Rights. My friend and colleague Jonathan Chan oriented them to U.S. history and civics so they could follow. Then we discussed the movie for an hour. Was inspiring to hear what they saw in Dr. King both personally and in their strategic approach to making change happen.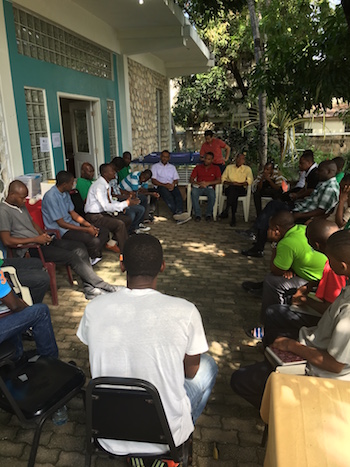 Then today we talked about the Practice of Confession (2nd practice in Slow Kingdom Coming), as a follow up to presenting on my book to them back in November before it was published yet. Was a good session interrupted briefly when the mango hit Honore.
The Inspector (yes that's his official title, and yes I'm jealous of that title) who heads the department of child protection within Haiti's national police presented to the students. I also spent about an hour talking with him. Such hard, important work, with limited resources and having to deal with horrific crimes (largely to do with gangs and rapes of minors).
Our colleague Enel is amazing at the practice of Partnering (4th practice). During this retreat we're bringing together these students from three different seminaries. Many denominations are represented. We're giving these young leaders tools and vision to collaborate across sectors (church, police, etc) to make a difference for children who are vulnerable.
We weep at what needs to be changed. We laugh when mangos surprise us from the sky. We learn from inspiring forebears like Dr. King. We build partnerships to work toward deep change. We keep practicing to participate well in this slow kingdom coming.