Books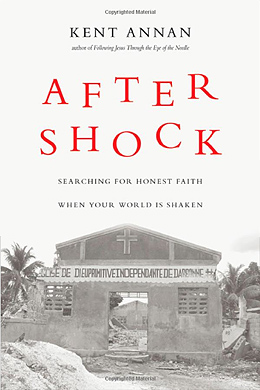 "After Shock is one man's scrupulously honest search for God. Although Kent Annan hopes for unshakable faith, he celebrates doubt as part of the process, a necessary part of being alive. There are no easy answers. There may be no answers at all. After Shock is the perfect example of what Rainer Maria Rilke called 'living the questions.' This is a book I will read over and over, for inspiration and for comfort. I loved it." -Abigail Thomas, author of A Three Dog Life
"It is hard to explain how I can say that this is a truly beautiful book, when it comes out of a background of such horror… Beautiful, perhaps, because up-close honesty is beautiful where the clichés of certainty-at-a-distance are repellant… Of course, it is also a deeply disturbing book. But if its brutal honesty upsets you, or if the questions it throws before God with baffled anger and gritty trust seem too irreverent, perhaps you have not really spent enough time in the company of Jeremiah, Job, the psalmists–and Jesus." – Christopher J. H. Wright, author of The God I Don't Understand
"Kent Annan asks the hard questions in After Shock. Where was God during and after the Haiti disaster? How could a loving God allow his children to suffer? The questions as well as the answers might surprise you. This is a deeply personal account of a man's walk of faith–a man heavily invested in this island nation and its people." – Debbie Macomber, #1 New York Times bestselling author
"Annan has put into words the questions many of us wrestle with in silence, and done so with such humanity and humility, it's impossible to walk away unchanged. This is a raw, beautiful and courageous book, brimming with truth on every page." – Rachel Held Evans, author of Evolving in Monkey Town
After Shock links:
---
An adventure of faith and trying to love my neighbors, with plenty of stumbles, embarrassments, fear, and laughter along the way.
An adventure of getting to know Haiti and its people. My wife and I moved in with a family–one room in their little tin-roof, no-electricity-or-running-water house–within 24 hours of landing. Share what I'm experiencing with a lot of respect but without hiding behind a soft-focus lens.
An adventure of love: marriage in pressure cooker, frying pan, fire, or whatever you want to call it. Ideals and service in relationships can create (to stick with the cooking metaphors) combustible stew.
An adventure in God: faith, doubt, questions, anger, prayer, hope, despair, and love along the way.
An adventure in sharing the life-changing experience so it's meaningful to you — wherever you are or want to be, whatever you believe or aren't sure about. It's an adventure in trying to live more fully by loving more vulnerably. Haiti provides quite a place to do it. But so is wherever you are.
Following Jesus Through the Eye of the Needle links: